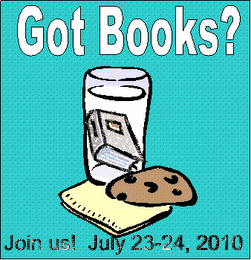 And now, the event you've all been waiting for! As I said in my last blog about the Got Books? event, I've been learning a little about how hard it is to make it as a debut author these days. So I thought that for this giveaway, I'd share some debut titles I'm most excited to read, and spread the debut author love around just a little!
As you can see, I've picked out (pretty much at random) six of my most anticipated YA debut novels of 2010. The winner of this giveaway will have a choice of ONE of these six novels, which will then be shipped by the Book Depository. (If you pick a title that has not yet been released, it will be pre-ordered.)
THE RULES:
1. Fill out the form (below) to enter.
2. This contest is open to any country the Book Depository ships to.
3. This event will close at 11:59 PM EST, July 24. The winner will be announced on or by July 30.
What are you waiting for? Just fill out the form to enter!