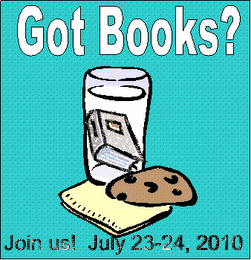 This Friday, July 23, the blog doors will open to hundreds of people rushing the contest forms, searching hungrily for books! Don't you just love it?
I will be hosting a YA debut author giveaway. I've spoken already about the importance of supporting debut authors, especially debut YA authors, so be warned: The winner of my giveaway will be receiving a book. Not just any book, but one of SIX carefully picked YA debut novels I haven't yet had the chance to read (but that I am very much anticipating). This book will be shipped by the Book Depository, so if you live in a country TBD ships to, you're in luck! Check back here on Friday to find out the excellent picks!
Can't wait? Check out
Got Books?
for more information. And be warned... Got Books? is coming. Are you ready?