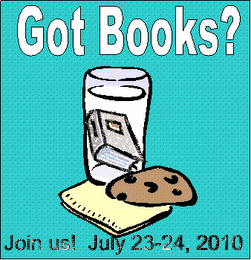 Wow.
Wow.
Wow.
Well, the Got Books? event turned out smashingly, if I do say so myself. I discovered a ton of great book blogs, and here at Elephants On Trapezes, I got an overwhelming number of excellent book recommendations. Thanks to everyone who took the time to stop by! (And welcome to all my new followers! I hope you stick around!)
I'll have to do a formal entry all about this (just because it was so interesting), but it looks like the top recommendations were
Paranormalcy, The Hunger Games,
and
Shiver/Linger
.
So, to business: 270 of you entered, with a total of 718 entries! (Wouldn't it have been awesome if there had been 720 entries, though?) With the help of random.org, the winner was...
#309: Gaby of Oh My Books!
She recommended The Book Thief, by Marcus Zusak. (One of my favorite books! An excellent choice - I also highly recommend it.)
Gaby has been contacted, and has 72 hours to get back to me before another winner is chosen. Thanks again to all who stopped by and entered!