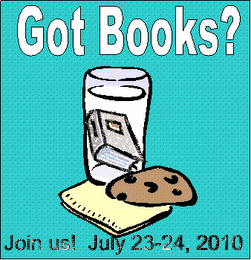 You may have seen this button floating around on the internet, or even on my blog! Yes, you guessed right. I'm going in on this one. And it's going to be good - I mean, just look at the cookie!
This event is all books, all book blogs, all the time - from July 23 to the 24th, anyway. And that's coming up! Just next week!
Now you're all wondering what I'll be giving away, right? Well, this I've picked up here in Denver: Being a debut author is
hard
. First you have to convince an agent you're worth something without any (or few) publication credits, then that agent has to convince a publishing house you're worth something, even though there's no prior book to project sales from, and even
then
, that publishing house has to be convinced to spend tens of thousands of dollars on you - even before the book comes out.
Sooo... I've decided to give a little love to debut authors. Specifically, to debut authors I
haven't read
. Just because everyone should take a chance, right? Especially on debut authors who have spent years working on these books with no guarantee that anything will come of it.
I will be giving away one book
, one book by a debut author in 2010, to one lucky person. The winner will have his/her choice of five 2010 debuts I am eagerly anticipating reading. (Just in case you were wondering, I haven't chosen which yet.) This book will be shipped wherever the Book Depository ships.
Excited yet? You should be...
Stay tuned for the announcement of the giveaway books.