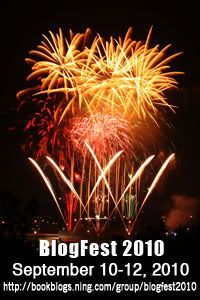 Welcome to BlogFest 2010! I'm stop #68, I think...out of more than 200!
I've been thinking about which books to give away, and I've decided to spread the love - the new author love! I've discovered SO MANY excellent authors this year who are without a doubt authors I will be following through the next few years of their career at least... So here's to new loves! I will be giving away one book (via The Book Depository) by one author I discovered this year and
loved
(most recent books by these authors pictured below, but you'll be able to choose
any
of their books if you win).
So - don't you want to win a shiny new book by Gail Carriger, Carrie Ryan, Simone Elkeles, or Megan Whalen Turner? The winner of this giveaway will have a choice of ONE book by one of these fabulous authors, which will then be shipped by the Book Depository.
THE RULES:
1. Fill out the form (below) to enter.
2. This contest is open to any country the Book Depository ships to.
3. This event will close at 11:59 PM EST, September 12. The winner will be announced on or by September 17.
What are you waiting for? Just fill out the form to enter!
PS: The next stop on this wild ride is #69,
A & C Book Junkies
! Have fun!